Rubber and sponge sheets: How to choose the right ones?
Rubber and sponge sheets are used in many industries. Most often, they serve as a semi-finished product for the production of various sealing and sealing parts, seals, technologies and other products. You can read about what they have in common, how they differ, what their properties are and what their use is in this blog.
Why rubber plates?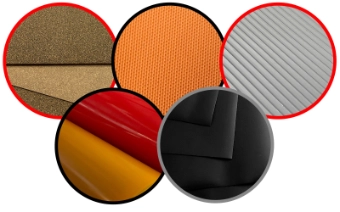 Rubber sheets or technical rubber, both names are used in practice. This semi-finished product is supplied in the form of sheets or rolls, and its properties vary depending on the type of mixture used. They are used to make many types of gaskets and other products across industries. Their use is wide, which corresponds to their wide range. From this material, we offer you sealing sheets, floorings, electrical insulation carpets and blankets, or rubber granulate. We offer each type of rubber sheet in different colors, thicknesses, widths and winding lengths.
More here.
Sealing sheets and their material design
As for the sealing sheets, there are many material designs to choose from. If you are looking for sealing sheets that are universal and you do not require any special properties from them, such as resistance to external influences, reach for SBR sealing sheets. If you are looking for oil-resistant sealing sheets, the right choice is those made of NBR material, but be careful, these sheets are resistant to permanent contact with mineral oils or gasoline, but not against contact with diesel, rapeseed oil, fat, propane-butane.
Rubber sealing sheets that are resistant to weather conditions, are sheets made of EPDM material. They are also resistant to ozone, high temperatures, ultraviolet radiation, acids and bases. If you are looking for a rubber sealing plate that is very strong and elastic, resistant to abrasion and strong in tension, the NR PARA rubber is the right material for you. It is used, for example, in the production of conveyor belts or sleeves for hoppers.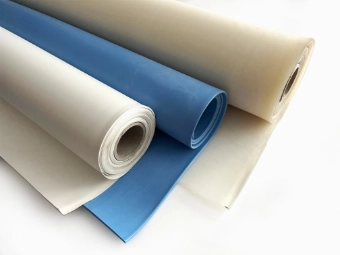 MVQ rubber sheets are a material that has certificates for the food industry and medicine. FKM rubber sheets are resistant to chemicals, high temperatures and aggressive media. In turn, PU rubber sheets are used for their high coefficient of friction and excellent damping properties for the production of springs, wiper blades and the like.
We come to CR rubber sheets, also known as neoprene. Due to their resistance to a wide range of adverse conditions and substances, these neoprene sheets are suitable for outdoor use and for the production of seals that cannot be penetrated by water or dust.
In addition to basic rubber boards, our offer also includes membrane canvases popular in the automotive and gas industries, as well as boards made of cork, rubber cork and plastic cork material, which are used as floor insulation due to their anti-vibration properties. They are also suitable for various machines, because the anti-vibration properties of the cork are long-lasting even under extremely high loads.
Rubber granulate
Good properties are also offered by granulated rubber, which dampens vibrations and noise, especially if it is a uniform load. At the same time, it can withstand extreme conditions and has a long service life. It is used in the field of transport and construction, in the agricultural segment, in stadiums, playgrounds, shooting ranges, in sports locker rooms and in many other industries.
Electrical insulation products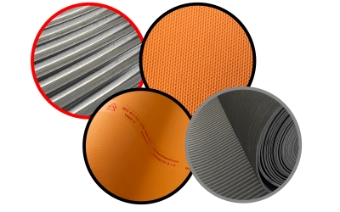 As rubber is a natural dielectric material, it is used for insulation and protection in various industries. Electrically insulating carpets are mainly used in transformer and electrical distribution stations and everywhere where high voltage is used.
Electrical insulating blankets, made of synthetic and natural rubber, are resistant to punctures and tears. They are suitable for automotive production and wherever working with live electrical parts. You can also find electrical insulation products with us in various designs. All offer HERE.
Floorings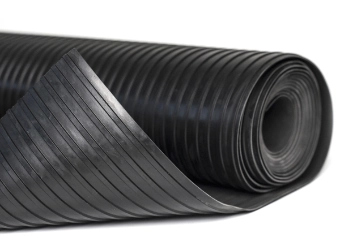 From floorings, we can also mention an important and wide category of floorings suitable for interiors and exteriors, easy to maintain, with anti-slip properties, suitable for various buildings, loading ramps, stadiums or gyms. Again, we offer them in different colors, thicknesses and designs. All offer HERE.
Why sponge rubber?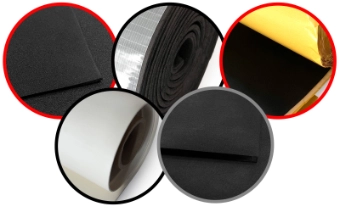 Even sponge rubber foams offer different material versions, structure or even the possibility of sticking with a self-adhesive layer. They are used as seals or to dampen vibrations and sound.
Material versions of sponge rubber
Sponge EPDM foams are used in many industries. They serve as an impact element or a semi-finished product for the production of various sealing parts or insulating layers.
Polyurethane foams (PU) are mainly used in the automotive industry due to their insulating and anti-corrosion properties.
Polyethylene foams (PE) are mainly used in electromechanical products and tools, they also serve as edge protectors or as linings for suitcases and crates. It is a board that is flexible, resistant to abrasion and corrosion.
Sponge silicone (MVQ) are, in turn, resistant to temperatures and the effects of the external environment and have a long service life. They have fire-proof certificates and are mainly used in planes, trains and ships, but not only there.
The last type is our thermal insulation foams, which, due to their properties, are mainly used to insulate pipes in heating, sanitary and solar systems, as well as ventilation and sewage installations. When they come into contact with fire, they tend to extinguish it, not spread it further.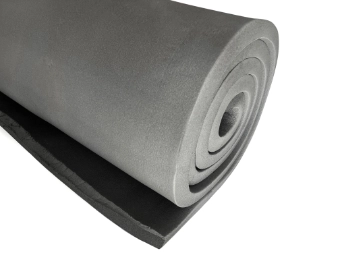 Microporous boards are also available in different colors, structures, thicknesses and widths depending on the design. For more information, please see our entire offer HERE.
Do you want to read more about rubber and sponge sheets? Click HERE!
In case of any questions, do not hesitate to contact us.