Meet a wide variety of profiles!
What groups, shapes or designs do we offer?
Profiles are an integral part of the industry and must not be missing from our offer, in which you will find a wide range of profiles of different shapes, materials and colors. As with flat or rotary seals, here too, if necessary, we can provide you with customized profiles, even in more complex designs.
As a profile, we define a product that has the same cross-sectional shape along its entire length. Profiles are often used in all industries, which is why they are produced in various shapes, materials and colors. Due to their wide application, there is no shortage of profiles in the AFINIS Group® product portfolio. We deliver profiles to clients as a semi-finished product, a finished product or a custom-made profile.
Basic groups of profiles
We divide profiles into three basic groups. We distinguish compact, sponge profiles and profiles with metal reinforcement.
Compact profiles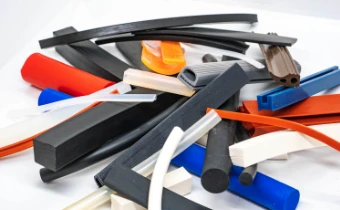 Compact profiles are made of homogeneous materials. We supply them with a circular, square, rectangular cross-section, and we can also make them to order with a cross-section of a more complex shape. Depending on the material in which they are made, we deliver them with different hardness and length.
Sponge profiles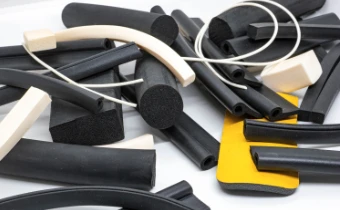 Sponge profiles have a structure of small cavities, which allows the profiles to be pressed. We supply them as well as compact profiles with different cross-sectional shapes and in different materials or lengths.
Profiles with metal reinforcement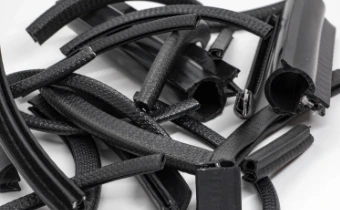 In addition to custom production, our offer also includes profiles with metal reinforcement, which can withstand water, dust or heat and at the same time can reliably seal air. They find application in many branches of industry. As for the shapes, we supply profile with metal reinforcement with side sealing, profile with metal reinforcement and profile with metal reinforcement with top sealing.
Characteristics of individual materials
We offer profiles in various material designs to meet the needs and specific applications of our customers. We supply compact and sponge profiles made of NBR, EPDM, FKM or MVQ materials as standard, profiles with metal reinforcement made of EPDM, PVC and silicone materials. If the customer wants to make a certain profile from a material other than standard (e.g. PVC, PTFE, PU, ​​etc.), his requirements will be taken care of by our sales representative and custom production.
NBR
The most widely used standard material is NBR – nitrile-butadiene rubber, i.e. an industrially produced copolymer based on butadiene with acrylonitrile. It is popular for its good mechanical properties, which are high resistance to abrasion, low gas permeability and high resistance to mineral oils and grease, which is its most specific positive property. NBR profiles are supplied in black as standard.
MVQ – silicone
Among the versatile materials that adapt well even to more demanding environments, the best choice for MVQ profiles is silicone, i.e. vinylmethylsiloxane. It is a high-performance elastomer with excellent electrical insulation, resistance to aging and wear, and a wide temperature range. It is highly elastic and resistant to chemicals. Due to its harmlessness to health, it is a favorite in the food, medical and pharmaceutical industries. The standard is silicone profiles in white color, but at the request of the customer, the silicone profile can also be colored.
EPDM
The material resistant to a wide range of temperatures, ozone, weathering, aging and also to hot water and steam is EPDM – ethylene-propylene-diene rubber. It also resists solvents or silicone oils and greases, but it is not resistant to mineral oils. It is supplied in black as standard, but it can also be supplied in other colors upon request.
FKM – viton
The last of the standard materials for the production of profiles is FKM – viton (fluorine rubber) suitable, for example, for application in a vacuum. It is also resistant to aging, weathering and ozone and can handle high temperatures and various chemical substances. It is specific for its low gas permeability.
Custom profiles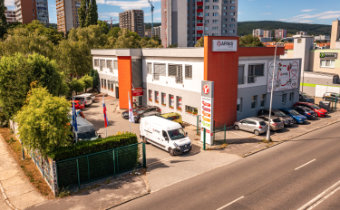 "Exactly • precisely • to measure". The slogan of our company, which does not bypass the category of profiles. We deliver profiles either as semi-finished products or as finished products. In case of special requirements for the material or the shape of the profile, we will arrange it for you.
Do you want to read more about the profiles in our offer?
Contact us if you need advice or to produce a specific profile model.